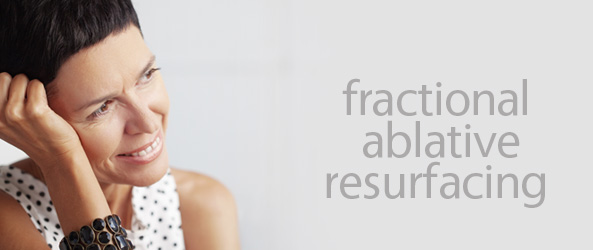 Fractional Ablative Resurfacing
CO2 ablative laser resurfacing has been the "Gold Standard" for non surgical facial rejuvenation and removal of facial skin wrinkles and photo aging since 1995. CO2 ablative laser resurfacing using the Ultrapulse CO2 laser can achieve very significant facial rejuvenation including wrinkle removal, skin tightening and removal of pigment and photo aging skin changes.
With fractional laser resurfacing the laser beam is broken up or fractionated into many small micro beams which are separated so that when they strike the skin surface small areas of the skin between the beams are not hit by the laser and left intact. These small areas of untreated skin promote a much more rapid recovery and healing with less risk of complications. The small areas treated by the fractional micro beams, called micro treatment zones, cause sufficient laser injury to promote new collagen production and resultant facial skin rejuvenation.
More recently several new fractional ablative lasers (ablate means to surgically remove-see last column on right in diagram below) have been developed which actually remove the heated column of skin tissue and provide more substantial wrinkle removal and superficial skin tightening than the non ablative fractional lasers (See Last Figure on Right in Above Diagram). The Fraxel® Repair laser and the Lumenis® Bridge laser are ablative fractional CO2 lasers and the Palomar® Lux2940 laser is an ablative fractional Erbium laser. These new ablative fractional CO2 and Erbium lasers have the advantage of producing better wrinkle removal and skin rejuvenation than the non-ablative fractional lasers, the Fraxel® and Palomar® Lux1540 with less down time than the traditional non fractional ablative CO2 and Erbium lasers.
http://www.zimbio.com/Boston+Medical+Spa/articles/40/Fractional+Laser+Skin+Resurfacing+Understanding